We visited Senator Warren's office.
September 9, 2014


Dear Activist,

Yesterday, CODEPINK visited Senator Elizabeth Warren's offices in both Washington DC and Springfield, Massachusetts to send a clear message that we are horrified by her recent comments about Israel and Gaza ("When Hamas puts its rocket launchers next to hospitals, next to schools, they're using their civilian population to protect their military assets. And I believe Israel has a right, at that point, to defend itself").
How can a progressive Senator like Elizabeth Warren justify Israel's bombing of schools and hospitals?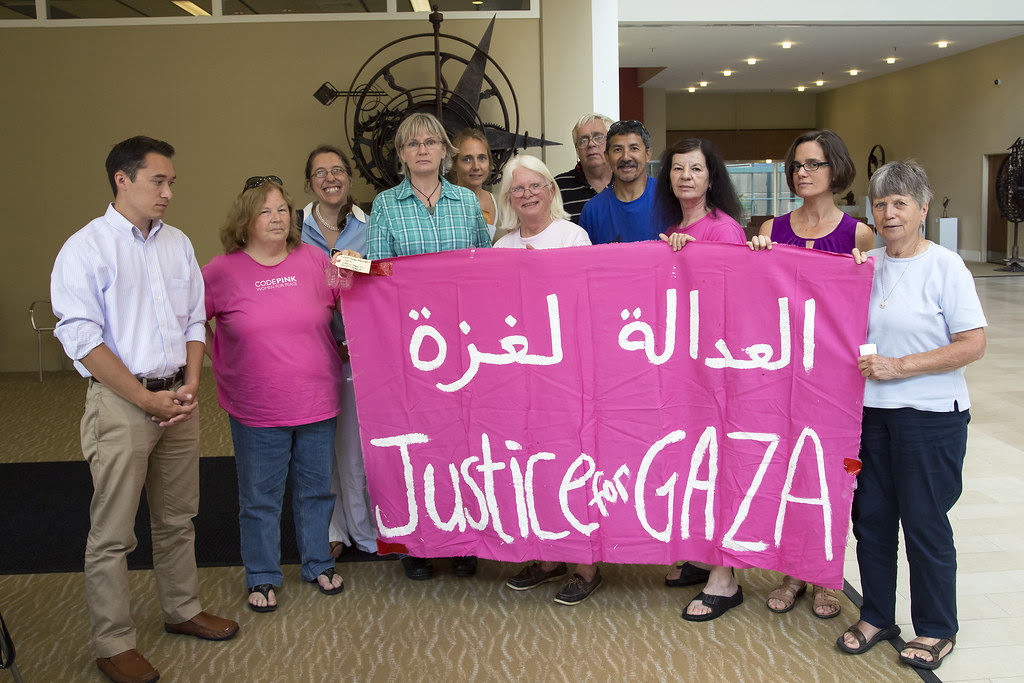 We had to take action. The Springfield, Massachusetts crew met with one of the Senator's staffers outside of her office. They delivered a small pair of shoes (to symbolize the children killed in Israel's latest assault on Gaza), a copy of Phyllis Bennis' book Understanding the Israeli-Palestinian Conflict: A Primer, and over 7,000 of your signatures on the petition we launched just the other day. The staffer listened to their concerns but didn't offer much insight from the Senator's end.
The DC team also delivered petition signatures and even refused to leave
the office until a staffer met with us. We sang songs about peace, read aloud first-hand accounts from bloggers in Gaza about the situation on the ground and what it's like to live in the world's largest open-air prison. When a staffer finally met with us, he refused to answer any of our questions and wouldn't even acknowledge that the Israeli settlements in the West Bank are illega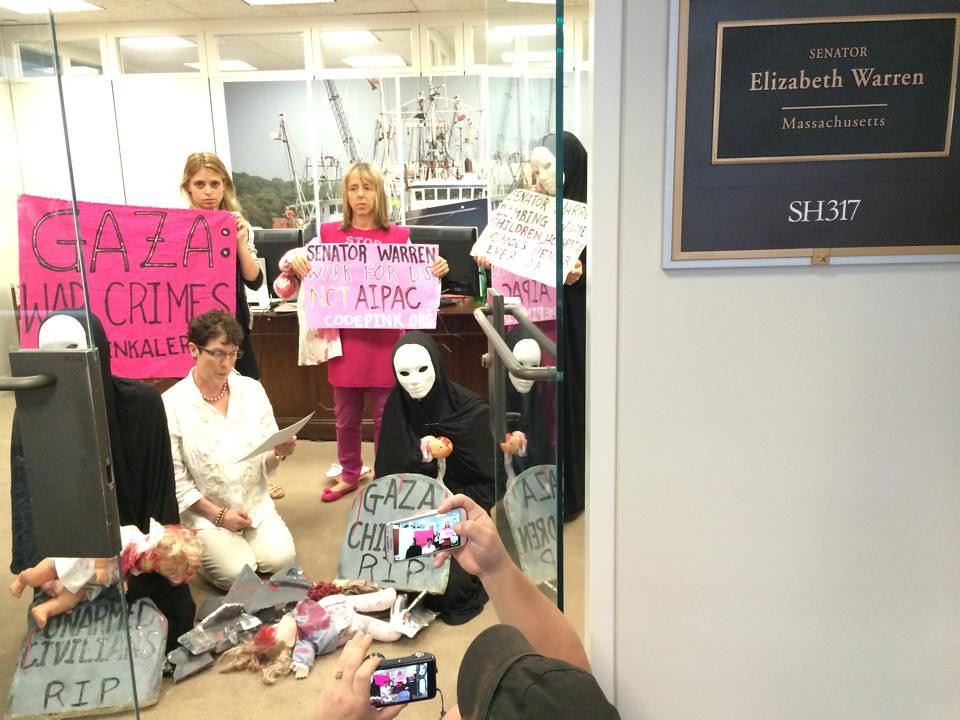 l. It was pretty shocking that one of Senator Warren's staffers couldn't even admit something so basic about the conflict
that even President Obama has himself acknowledged it! Check out pictures from the action.
Please take a minute t
o send a message to Senator Warren's foreign policy staffer to tell him that the Israeli settlements in the West Bank are indeed illegal under international law, and that it's long past time that the Senator admits this publicly, and that we expect her to speak out on behalf of the innocent people of Gaza who have been so harmed by Israeli policies.
We're disappointed.
We love Senator Warren! But her position on this issue is unacceptable. It's up to us to apply pressure on her to take a stance for Palestinian human rights, and to let her know that we've got her back when she does.
Toward justice and peace for Palestine,
Alli, Anastasia, Holly, Jodie, Janet, Jes, Medea, Nada, Nancy, Nathan, Sophia, and Tighe