Message for you from Geneva
January 24, 2014
Dear Peacemaker,
We have had an exciting week in Switzerland during the Geneva II peace talks on Syria, and it wouldn't have been possible without your support.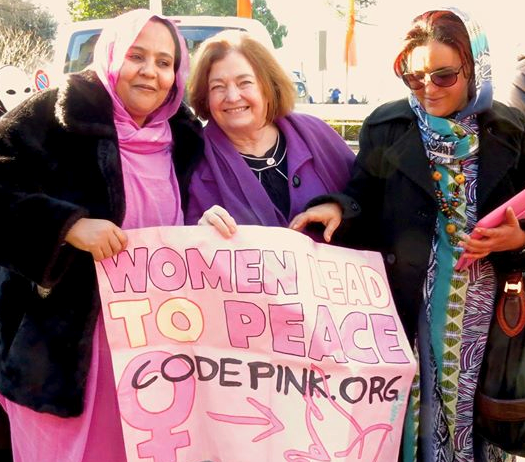 Our Women Lead to Peace Summit was a great success, featuring fascinating panels of brilliant women involved in conflict resolution in places all over the world, including Syria, Guatemala, Sri Lanka, Bosnia, Ireland and Western Sahara. We even had two Nobel Peace Laureates join us, Shirin Ebadi from Iran and Mairead Maguire from Ireland. Check out the footage from the Summit!

We were also in the streets of Geneva and Montreux calling for an immediate ceasefire in Syria, and for an official place for civil society, especially women, at the peace talks. We brought our message directly to the men in power who have pushed aside the voices of Syrian women who are key to resolving the conflict. Medea Benjamin had a chance to
deliver thousands of petition signatures to representatives of the United States and the United Nations. Check out pictures from the Summit and our actions here.

Our message also went far and wide online through social media and articles. We successfully set off a Thunderclap that reached 244,478 people, highlighting the need for women's voices at the table by elevating the hashtag #WomenLead. Even the International New York Times made a cartoon about our campaign. Thank you for helping us spread the word!

We are so inspired by the women we met this week, and our work is just beginning. The war in Syria ravages on, and the women of civil society remain underrepresented. Along with our partners Women's International League for Peace and Freedom, Iara Lee, MADRE, Nobel Women's Initiative, and Kvinna till Kvinna, we will continue to work hard to change these dire circumstances, because we know that it is truly women who lead to peace.

We are already working with on next steps, not just for Syria but other conflict zones. Our next women's delegation will go to Gaza for March 8, International Women's Day. Let us know if you'd like to join and donate to make this trip possible.

Towards peace in Syria,
Jodie, Medea, Alli, Perrine and Tighe